Bushfires have impacted many regions across Australia through the summer of 2019/2020 – including South Australia and our community on Kangaroo Island. The scale of fires is unprecedented, and the on-going stories on news reporting and social media are challenging – but often without context. The following is a summary of the current status of the bush fire on Kangaroo Island, it's impacts and our plan for recovery. 
Current Status:Â 
The bush fire on Kangaroo Island's Western end is finally controlled after more than a month of active firefighting. We have recently welcomed a large amount of rain which has assisted in further settling down the fire and has boosted natural regeneration of our amazing fire-adapted vegetation. Within the fireground itself we do still have some hotspots smouldering deep underground which Firefighters are using Thermal Imaging Equipment to identify. Because of this, and the ongoing clean up of debris and trees off the roads, the Western end of the island remains closed to the public at this stage. However, on the 16th of January, during his visit to Kangaroo Island, Minister for Environment and Water, David Speirs, said that Admirals Arch and Remarkable Rocks would be reopened within "weeks rather than months", so we look forward to that happening very soon. The map below shows the burnt area (grey) and highlights the roads that are open which you can use to reach us at Vivonne Bay as well as to access other beautiful parts of KI. With the help of the army, CFS, utility/service teams and volunteers, more roads are opening each day.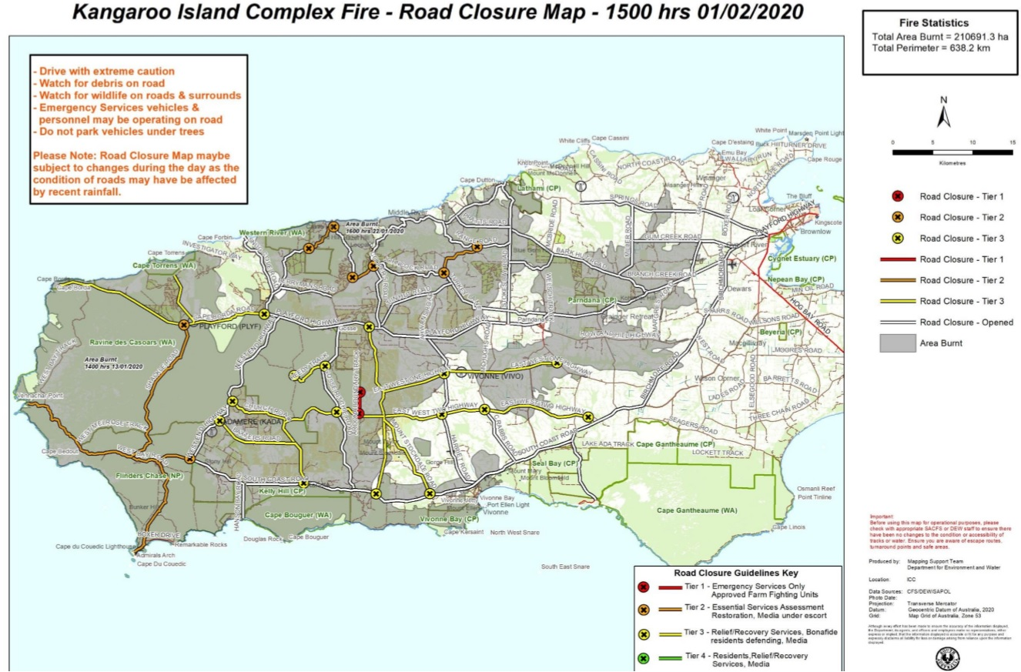 Impacts:
On the 20th December 2019 several lightning strikes impacted the Western end of Kangaroo Island, the Ravine Fire travelled in a Northerly direction towards the Playford Hwy. On Friday 31st January 2020 the SA Country Fire Service declared the Kangaroo Island Fire Complex as controlled after it has burnt approximately 48% of the island, 210606 hectares. Community impact has been significant – with losses of property, livestock, fences, vehicles, 89 homes and tragically, the lives of two people fighting these fires. Tourism losses include Southern Ocean Lodge, Kangaroo Island Wilderness Retreat, Hanson Bay Sanctuary and Cabins, Flinders Chase Farm Accommodation, Western KI Caravan Park, Vivonne Bay Lodge and May's Cottage Heritage Accommodation. Undamaged but currently unavailable due to road closures are Cape du Couedic and Cape Borda Lighthouse cottages. All other accommodations are open for business.
As far as Kangaroo Island Outdoor Action and Little Sahara Adventure Centre is concerned, we feel like we have dodged a massive bullet! Both our businesses suffered fire damage but not total destruction and all of our tours and activities are still operating. We lost about half of the vegetation surrounding our quad bike tracks and some of the vegetation along the banks of the Harriet River where we do our kayaking. But the guests we have had since the fires have been saying that if anything it makes the tours more interesting as it offers a rich opportunity to observe the ecological resilience of the Australian bush. We can still have a fun adventure while we seek out wildlife such as kangaroos, wallabies, koalas, echidnas, goannas and a host of birds – all in their natural habitat. Guest feedback on tour experiences post-fire has been excellent – make sure you check out our reviews on Tripadvisor, Google or Facebook where we are ranked as the best thing to do on Kangaroo Island in outdoor activities.
The fires have left about 2,300 square kilometres – the eastern half – of the Island unaffected. Unburned wildlife habitat includes fifteen conservation parks including the Cape Gantheaume Conservation Park and Wilderness Areas (>25,000 hectares) and large tracts on private property. Impact on wildlife has been significant. While large and challenging numbers have been quoted as potential losses, the accuracy of such estimates is low and the numbers meaningless without knowing the starting populations. Our starting point was very high for most species.
Since the fires began, tammar wallabies, glossy-black cockatoos, Cape Barren geese, platypus, sooty dunnarts, southern brown bandicoots, echidnas, Rosenberg's goannas, tiger snakes, Kangaroo Island kangaroos, wedge-tailed eagles and many other birds have been unharmed and observed roaming freely within the fire zone.
Fires are a natural event, and for many plant species, it is a necessary rejuvenating agent. In 2007 fires burned more than 85% of Flinders Chase National Park and while the stark landscape was initially different, the habitat and wildlife populations recovered. This year, we have already seen seeds opening up and raining down on the ash bed ready for germination, and fire-hardy Eucalyptus and grass-trees have already sprouted new buds. The recovery has begun – which is extremely encouraging!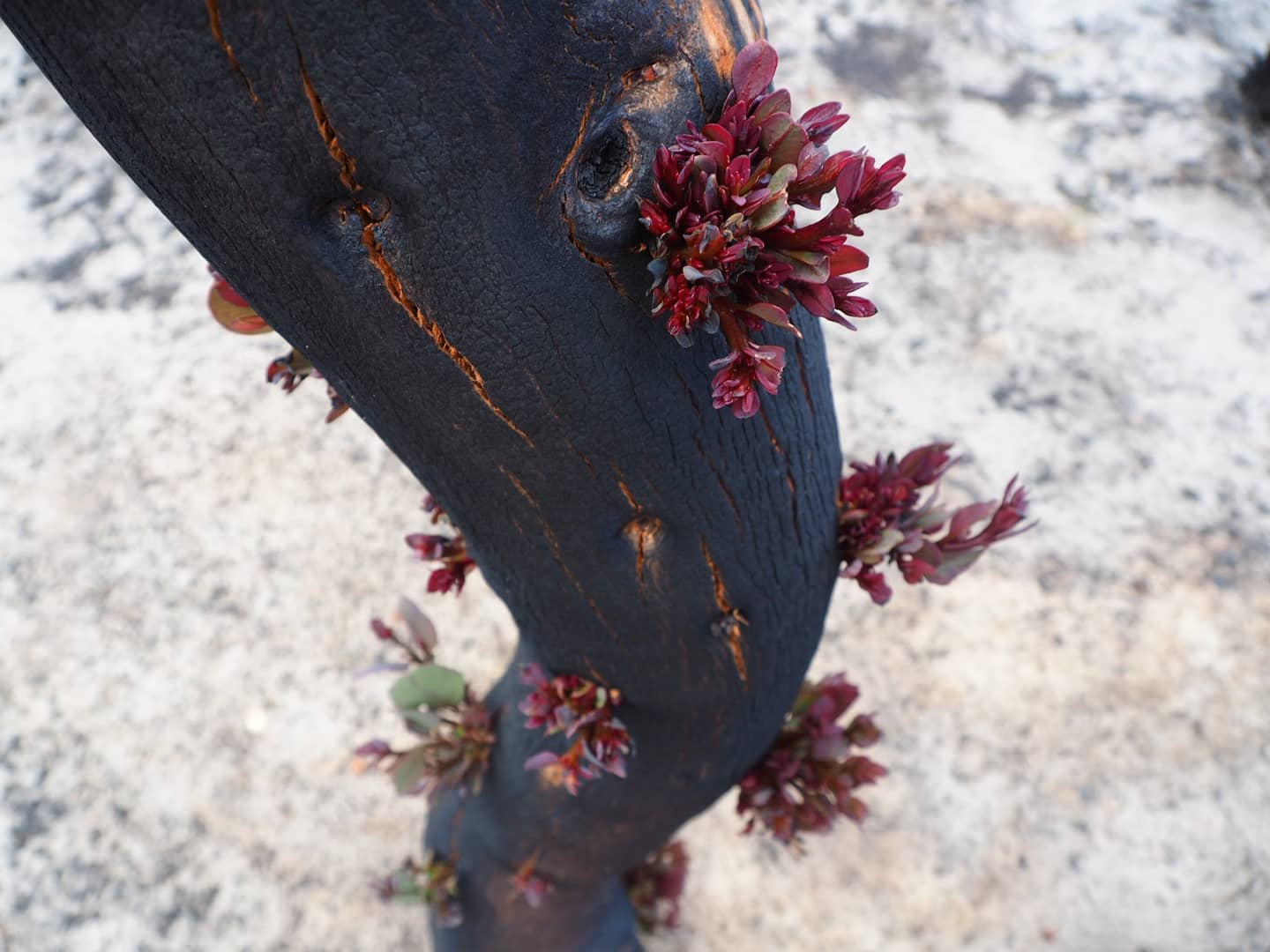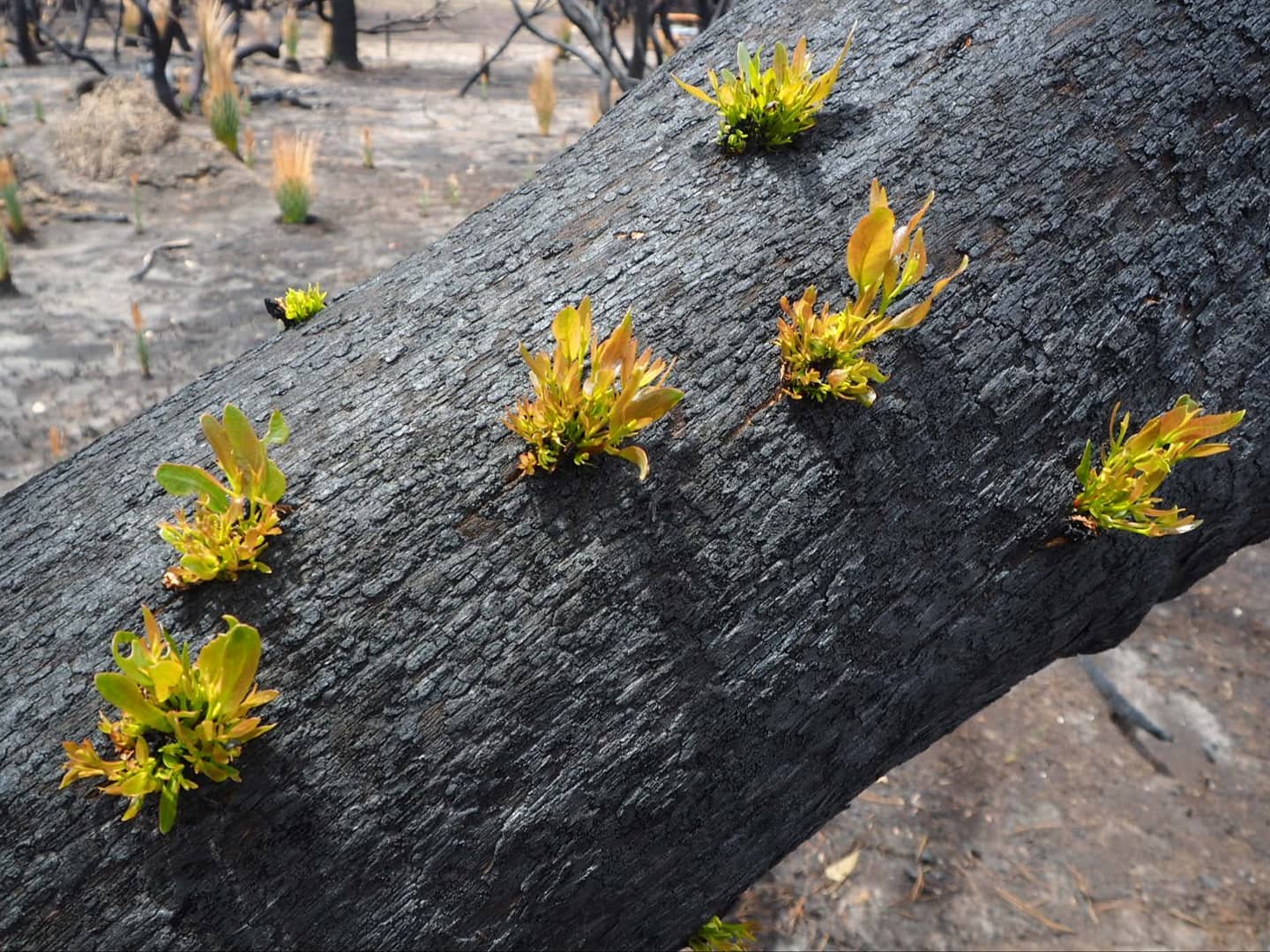 Visitor Concerns:
Traveller bushfire concerns are valid – but need context. For guest and staff safety, we cancelled all tours during the height of the fires and more recently have closed on a few days where temperatures and wind speed increased and wind direction changed. While we do have safety equipment and bushfire procedures, we rely on avoidance of risk as our first response to keep our guests and staff safe.
Guests have raised air quality concerns which were an issue at the height of the fires, but that threat has passed. Here on Kangaroo Island, we have constant winds off the Southern Ocean, giving us some of the cleanest air in the world.
Finally, potential travellers could be concerned about Kangaroo Island being a sad and depressing experience with dead or injured animals in a blackened landscape. This was certainly the case in parts of the Island at a particular point in time. But we still have half of the island untouched by the fires which is about four times the size of Singapore! So there is still so much to see and do here on Kangaroo Island! We have stunning beaches including our local spot of Vivonne Bay, and other staff favourites of Stokes Bay, Bales Beach and Pennington Bay. We still have so much wildlife – the 500 year old gums along the Eleanor River where we run our bike tours is the most densely populated koala habitat on KI, potentially even in Australia! We guarantee you will see wild Koalas on our bike tours, and Kangaroos in their natural habitat on our Sunset Kangaroo Safari Quad Tour. And if that isn't enough for you there is Seal Bay – Australia's largest Sea Lion population, Raptor Domain's Bird and Reptile shows, Kangaroo Island Wildlife Park and Ocean Safari & Marine Adventures Seal and Dolphin swims. There is also a humming food and beverage scene on Kangaroo Island with many cellar doors showcasing local wines, beers, spirits, honey, lavender & eucalyptus products, fresh seafood, chutneys, garlic, figs, olives and more!
Like many other tourism businesses on the island our turnover is 80-90% down at the moment. This is really worrying for Kangaroo Island businesses, as this is the time of year we would normally be saving money to get us through the quieter winter months ahead. Tourism generates half of KI's economy – and is influential in the success of many of our farmer/producer enterprises through consuming local produce, or guests taking home our produce. It employs many people and this is true across Australia – nationally 1 out of every 12 jobs is tourism related. Our primary industries (sheep, cattle, oats, barley, wheat, grapes) took a big hit and they cannot get back in business immediately as they need to re-establish fences, flocks and pastures and may take a year or two to start generating revenue. Tourism can do this TODAY. Don't come because you feel compassion for us – although we love and welcome the warm support extended – come because you will have an awesome time AND you will help us out!